Senigallia, a refined Italian seaside town in the Marches region, is popular for its resort facilities and is known as the Velvet Beach for its golden sands. 
The Velvet Beach is 13-kilometres long
Senigallia is one of the Marche region's main tourist resorts, attracting visitors from all over Italy and Europe, also thanks to its fame as the Velvet Beach – some 13 kilometres of soft, golden sand washed by blue seas.  Since 1997 Senigallia has uninterruptedly boasted the Blue Flag, the recognition for destinations that guarantee the quality of their sea water, environmental management, user information, services and safety on the beach.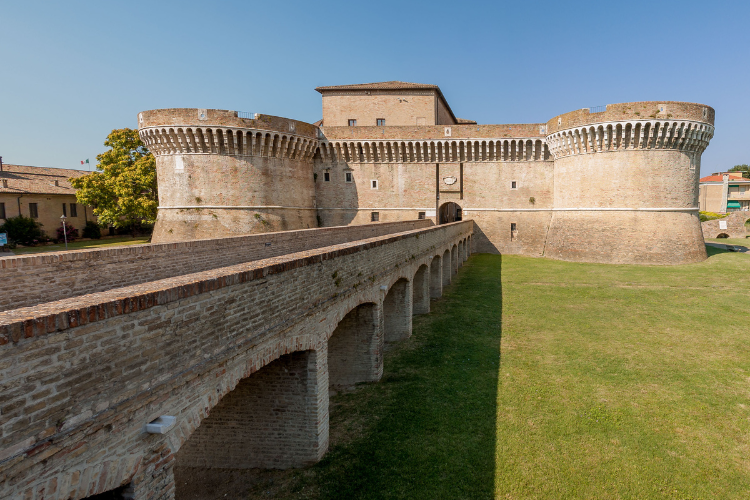 Rocca Roveresca Senigallia
The magnificent fortress was built over the centuries
The Rocca Roveresca fortress is one of the area's most interesting historical buildings, and is the result of the superimposition of defensive structures that have succeeded one another over the centuries. As we see it today the fortress was commissioned by Giovanni Della Rovere, who called on Duke  Federico da Montefeltro's great architects Luciano Laurana and Baccio Pontelli.
Handsome palaces with stuccoes and coffered ceilings
The Palazzo del Duca, designed by Girolamo and Bartolomeo Genga for Guidubaldo II around the middle of the 16th century, has a splendid coffered ceiling painted by Taddeo Zuccari. The Palazzetto Baviera was built by Giovanni Giacomo Baviera at the same time as the Rocca fortress. It has splendid stuccoes dating back to 1590, the work of the famous Urbino artist Federico Brandani.
The Portici Ercolani 126 arches used to shelter market stalls
The Piazza Roma square, overlooked by the 17th-century Palazzo del Governo, has a handsome fountain of Neptune, which the people of Senigallia refer to affectionately as the Monco in Piazza. The Portici Ercolani arcades lining the right bank of the Misa River are a sequence of one hundred and twenty-six arches in Istrian stone. They were built to shelter the many merchants who used to come to the city every July for the famous Maddalena Franca fair.
The Rotonda al Mare building is the symbol of the city
Not to be missed is the Rotonda a Mare, an elegant building at the end of a pier and the city's tourist symbol since 1933, the year it opened. This handsome exhibition and entertainment venue is a popular meeting place for holidaymakers during the summer months, and it was restored to its former glory in July 2006.