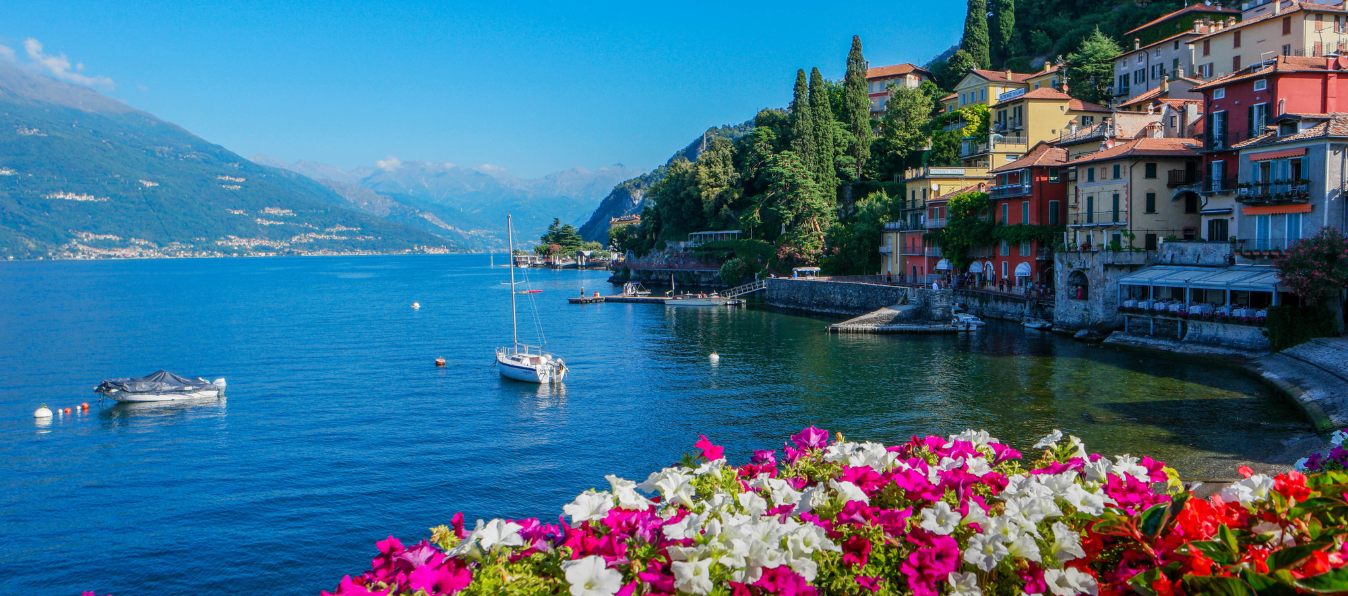 A serene oasis of natural beauty and cultural heritage
Lake Como, or Lago di Como in Italian, also known as Lario, is a natural beauty in northern Italy's Lombardy region. It is Italy's third-largest lake and one of Europe's deepest, surrounded by lovely cities and villages. It is widely regarded as one of the most picturesque lakes in the world and has attracted visitors for centuries. Lake Como has long been a popular tourist and celebrity destination due to its tranquil beauty and rich cultural legacy.
Italy's mesmerizing Lake Como presents itself as a captivating destination that fuses elements of natural grandeur with cultural richness and opulence. This striking region features magnificent villas, an enthralling history, and savory treats, all awaiting discovery for unforgettable experiences.
Lake Como's fascination extends beyond its natural beauty. The lake is surrounded by charming towns and cities, each boasting its own unique blend of historical significance, cultural richness, and breathtaking landscapes. Lake Como cannot be spoken of without noting its magnificent villas. These architectural marvels, steeped in history and grandeur, serve as reminders of the region's rich cultural heritage.  Villa Serbelloni, Villa d'Este, and Villa Flori are notable examples.
Each villa, with its distinct design and historical significance, offers a glimpse into the lavish lifestyles of the past. These include the well-known lakeside resorts of Como, Lecco, Bellagio, Tremezzo, Menaggio, and Varenna, which are all linked by ferry services. Furthermore, these are just a few of the many famous lakeside resorts on Lake Como. The entire region is known for its natural beauty, charming towns, and opulent villas, making it a popular destination for visitors from around the world.
Despite its popularity, Lake Como retains an air of tranquility and mystery. Its faded veneer of old-money gentility, picturesque Victorian gardens, and lakeshore restaurants make it a dreamy and enchanting destination. Whether you're exploring the flower-lined streets of Bellagio, visiting the grand hotels of Tremezzo, or simply soaking in the lake's serene beauty, a visit to Lake Como promises an unforgettable experience.
Discover Lake Como's historical villas
Italy is a treasure trove of luxurious destinations that cater to the discerning traveler. Rome, the Eternal City, offers a wealth of opulent experiences, from private tours of the Vatican and the Colosseum to high-end shopping districts. The picturesque Amalfi Coast, with its stunning cliffside villages and azure waters, provides an idyllic setting for a lavish getaway, complete with private yacht excursions and gourmet dining experiences. In Tuscany, renowned for its rolling hills, vineyards, and charming medieval towns, luxury travelers can stay in elegant villas, enjoy private wine tastings, and partake in exclusive truffle hunting adventures. It is impossible not to fall in love with Lake Como, a renowned luxury destination. A gondola ride in Venice is as grand as the canal you'd ride in and is impossible to resist.  The Costa Smeralda (Emerald Coast) on Sardinia's north-east seaboard attracts billionaires and celebrities from all over the world. These destinations, among others, make Italy a top choice for those seeking a refined and indulgent travel experience.
Lake Como Hotel Villas
- Villa d'Este: situated in Cernobbio. Is an opulent hotel and a historical villa. Constructed as a summer home during the 16th century, this magnificent estate is adorned with picturesque gardens and offers stunning views of the lake. The villa is highly regarded for its sumptuous interiors, intricate artwork, and impeccably groomed gardens.
Travelers love Villa d'Este as they can enjoy the opulent amenities, impeccable service, and unique experience of living in a grand Italian villa. The hotel provides a luxurious and comfortable retreat for guests, enhancing their overall experience.
Villa d'Este boasts several dining options, including Michelin-starred restaurants. Travelers appreciate the exceptional cuisine served at the villa, which showcases the best of Italian gastronomy. The elegant ambiance, exquisite flavors, and impeccable service contribute to a memorable dining experience.
- Villa Serbelloni: nestled within the town of Bellagio, this impressive neoclassical villa with sprawling grounds affords unparalleled vistas of Lake Como. This architectural gem was initially erected as a private dwelling in the 15th century but has since been repurposed into a prestigious hotel and a renowned hub for conferences.
Travelers love Villa Serbelloni for its luxurious accommodations. The rooms and suites are elegantly appointed, blending modern comforts with traditional aesthetics. Travelers appreciate the high-quality amenities, personalized service, and the opportunity to stay in a historic villa with a unique character and ambiance.
Villa Serbelloni provides a range of recreational facilities to enhance the guest experience. These include a swimming pool, tennis courts, a fitness center, and a spa. Travelers can indulge in relaxation and wellness activities, ensuring a well-rounded and enjoyable stay at the villa.
- Villa Flori: Villa Flori is a boutique hotel villa located in the town of Como on the western shore of Lake Como. Villa Flori is a historic villa that dates back to the 19th century. The neoclassical architecture and elegant interiors exude a sense of timeless beauty and grandeur. Guests can admire the villa's original features while enjoying modern comforts and amenities.
Travelers love Villa Flori for its magnificent rooms, which feature a blend of classic and contemporary design elements, ensuring a comfortable and luxurious stay. Many of the rooms offer views of the lake, allowing guests to wake up to the beauty of Lake Como.
Villa Flori is home to a gourmet restaurant that showcases the finest Italian cuisine. Guests can indulge in a culinary journey featuring regional specialties, fresh ingredients, and innovative flavors. The restaurant's lakefront terrace provides a romantic and scenic setting for memorable dining experiences.
Lake Como Villas for Rent
Lake Como villas present an extraordinary opportunity to delight in the splendor and refinement of Italy's lakeside. These villas offer guests varying sizes, styles, and prices, as well as an impressive range of amenities and services. Renting a villa in Lake Como allows you to enjoy privacy, comfort, and personalized service while also exploring the region at your own pace. Some of the top Lake Como villas for rent that remain guests' favorites are:
Villa Magia del Lago
Villa Belvedere
Villa La Dolce Vita
Villa Sola Cabiati
Villa La Cassinella
Villa Regina Teodolinda
Villa Balbiano
Villa Casa Sissi
Villa Mirage
Lake Como Museum and Cultural Center Villas
Villa del Balbianello: positioned on a picturesque promontory near Lenno, Villa del Balbianello is one of Lake Como's most famous and breathtaking villas. It is renowned for its terraced gardens, panoramic views, and appearances in notable films like "Star Wars: Episode II: Attack of the Clones" and "Casino Royale."
Villa Carlotta: located in the enchanting village of Tremezzo. Is an impressive and visually stunning villa housing a remarkable botanical garden. This splendid architectural masterpiece dates back to the late 17th century and proudly displays an extensive collection of exquisite artworks and sculptures. The expansive gardens that surround the villa are a true testament to nature's beauty. Featuring a myriad of plant species such as azaleas, rhododendrons, and camellias.
Villa Olmo: located in the picturesque city of Como, is a magnificent neoclassical villa that is enclosed by a vast park. Constructed towards the end of the 18th century. It has gained renown for its refined architecture and stunning position on the edge of the lake. In modern times. This grand estate serves as a venue for exhibitions and cultural festivities. And live musical performances.
These stunning villas are just a few examples of the historical villas that can be seen dotting the shores of Lake Como and are a true testament to the region's beauty. Each villa offers a fascinating combination of history, art, and natural splendor that only adds to the enchantment of this area.
FREQUENTLY ASKED QUESTIONS
What is so special about Lake Como?
Lake Como is a stunning glacial lake known for its breathtaking beauty and rich history. Formed around 10,000 years ago during the last Ice Age, the lake's distinctive 'Y' shape was created by the movement of an enormous glacier. This geological marvel is surrounded by the majestic Alps, with picturesque towns like Bellagio, Menaggio, and Varenna dotting its shores. Lake Como's stunning scenery, charming towns, historic villas, cultural heritage, outdoor activities, and accessibility combine to create a desirable and unforgettable destination for travelers seeking beauty, tranquility, and a touch of Italian elegance.
Can I swim in Lake Como?
Lake Como is located in northern Italy and is noted for its natural beauty as well as its clear water, which allows for ideal swimming conditions. The quiet environment combined with splendor makes it a fantastic choice for escaping into scenic surroundings.
What is the best month to visit Lake Como?
The ideal time to visit Lake Como depends on individual preferences and the type of experience one is seeking. Spring (March–May) offers blossoming landscapes, mild temperatures, and fewer tourists, although rainfall can be expected. Summer (June–August) brings warm weather and a lively atmosphere, perfect for water activities and exploring lakeside towns, but it also attracts larger crowds and higher prices. Autumn (September–November) features beautiful foliage, pleasant weather, and fewer crowds, with November marking the end of the tourist season. Winter (December–February) provides a serene and tranquil atmosphere, with colder temperatures and snow-capped mountains, making it perfect for a peaceful getaway and enjoying Christmas markets and festive
How do I get to Lake Como?
Lake Como is well connected and easily accessible through various modes of transportation. The closest international airport is Milan Malpensa Airport (MXP), situated about 50 kilometers (31 miles) from Lake Como. From there, travelers can take a train or taxi to reach the lake. Another option is Milan Linate Airport (LIN), located approximately 80 kilometers (50 miles) away.
Train connections are also convenient, with trains running from Milan's Central Station (Milano Centrale) to Como, taking around an hour. Once in Como, visitors can explore the lake by ferry or take local trains to other towns along the shores.
For those who prefer driving, the A9 motorway connects Como to Milan, with signs directing drivers towards Lake Como. However, navigating the narrow streets and finding parking in lakeside towns can be challenging during peak tourist seasons.
Ferry services offer a scenic way to explore Lake Como, connecting popular towns such as Bellagio, Varenna, Menaggio, and Como. Local buses are another affordable option for getting around the region, with the Como-Bellagio bus line being a popular route.
It is essential to check schedules and plan transportation in advance, particularly during peak tourist season, to ensure a smooth and enjoyable journey around Lake Como
What are the best tours and activities at Lake Como?
Lake Como, a stunning destination in Italy, offers a wide range of activities and tours to cater to various interests. Some popular options include:
1. Villa Visits: The lake is famous for its historic villas and gardens, such as Villa del Balbianello, Villa Carlotta, and Villa Monastero. Visitors can explore the lavish interiors, wander through beautiful gardens, and admire the architectural grandeur of these magnificent properties.
2. Boat Tours: Exploring Lake Como by boat allows you to appreciate its breathtaking landscapes and visit various towns, villas, and landmarks. Options include private boat tours, group tours, or even renting a boat yourself.
3. Water Sports: Lake Como provides excellent opportunities for water sports enthusiasts, with activities such as sailing, windsurfing, kayaking, paddleboarding, and water skiing available. Rental services make it easy to enjoy these exhilarating activities amidst the stunning scenery.
4. Hiking and Trekking: The surrounding mountains and hills offer numerous hiking and trekking trails, leading to panoramic viewpoints, charming villages, and hidden gems. The Greenway del Lago di Como, a scenic lakeside trail, is perfect for leisurely walks.
5. Cycling and Biking: Scenic routes around Lake Como cater to cycling enthusiasts, with options to rent bicycles and explore lakeside roads or tackle challenging mountain biking trails.
6. Wine Tasting: The region is known for its vineyards and wineries, and wine-tasting tours provide an opportunity to savor local flavors and learn about the winemaking process.
7. Cultural and Historical Tours: Lake Como has a rich cultural heritage, and guided tours allow visitors to explore historical sites, learn about local history, art, and architecture, and visit picturesque towns and villages.
With such a diverse range of tours and activities, Lake Como has something to offer everyone, whether you're seeking outdoor adventures, cultural experiences, or simply enjoying the beauty of the lake and its surroundings.
How much time is enough to spend at Lake Como?
To fully appreciate Lake Como and its surrounding attractions, the ideal duration of your visit depends on your interests, preferred activities, and exploration pace. Generally, it is suggested to spend a minimum of 2 to 3 days in the area to ensure a well-rounded experience of Lake Como and its picturesque surroundings.