Italy's top ten most beautiful diving destinations from Sardinia to Sicily have been compiled by Scubadvisor, the world's first app entirely dedicated to diving enthusiasts.

It provides details on the best locations, advice on how to book your dive in your favourite diving centre, as well as descriptions, prices, and maps to help you plan your trips alone or with friends.
Top of the ten
Ustica is ranked first by Scubadvisor 2022. The island was made Italy's first protected marine reserve in 1986 and the listing dubs it "the best kept secret of the Mediterranean." Ustica has 13 dive sites, one of which is thought to be more interesting than the others. It is the Secca della Colombara, about 500 metres off the island's north coast, where you can see huge groupers, snappers, star fish and sea sponges, sea urchins, octopuses, and, above all, large schools of amberjacks, barracuda, and moray eels. In addition, some ten years ago, a merchant ship carrying blocks of marble sank at a depth of 24 metres next to the shoal, and is a small Titanic in the heart of the Mediterranean!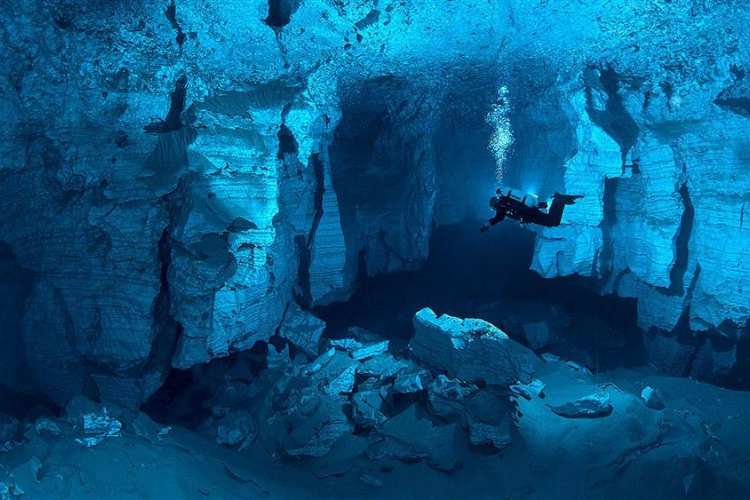 Grotta di Nereo Capo Caccia (Sardinia)
In second place
Sardinia is once again ranked second on Scubadvisor. The Grotta di Nereo is located beneath the limestone promontory of Capo Caccia. There is a hidden underwater world with a unique charm here, between 15 and 30 metres deep: the largest submerged marine cavity in the Mediterranean and in all of Europe, with a main gallery of 300 metres and a secondary development of tunnels and chambers that allows it to reach a total length of half a kilometre, populated by groupers, bream, scorpion fish, and mullet, and where red coral is the absolute protagonist. The surroundings of the Nereo cave are not only for deep diving; it is possible to combine snorkeling activities in the water with surface trekking.


Lampedusa - Rabbit Island


In third place
Lampedusa, an authentic diving paradise, comes in third place. Among the numerous underwater sites frequented by Scubadvisor users, they recommend a dive south of Rabbit Island where you can see the bronze statue of the Madonna of the Sea.


Black coral in the Secca del Faro Gallipoli (Apulia)
In fourth place
The Secca del Faro di Gallipoli is ranked fourth. Dive with one of the local diving centres to discover an incredible underwater world, ideal for those looking for a slightly more challenging descent into the abyss, with a notable presence of black coral, red gorgonian, yellow gorgonian, and the rare gerardia savaglia. Furthermore large specimens of lobsters, as well as the very rare pencil hedgehog, can be found among the rocks.
In fifth place
The submerged park of Baia, north of the Gulf of Naples, also known as the submerged Pompeii, comes in fifth place. It is a protected marine area that was established exactly twenty years ago and is Italy's most important submerged archaeological site. Its extraordinary value stems from the archaeological finds' excellent state of conservation as well as their objective historical archaeological worth. Mosaics, frescoes, sculptures, roads, and columns are submerged five metres below sea level among schools of starfish, anemones and damselfish. This underwater exploration is also appropriate for inexperienced divers.
In sixth place
In sixth place is the Marine Park of Giannutri, which is part of the Sanctuary of the Cetaceans, a vast marine area between Liguria and Sardinia dedicated to the conservation of marine mammals. The most beautiful coves on Giannutri can be reached by boat or by walking along the island's paths.
In seventh place 
The Island of Elba comes in seventh place, with numerous opportunities to explore the deep blue. According to Scubadvisor, the most beautiful dive is the Elviscot wreck site. This small ship sank in 1972 and is now lying on its side on the seafloor between eight and 12 metres deep.
In eighth place
In eighth place we have the Secca del Papa in Sardinia, on the island of Tavolara, directly in front of San Teodoro. This diving point can only be reached through local diving centres, as it is a true paradise protected as a natural oasis. It has stunning walls of gorgonians, which are constantly monitored by marine biologists. The experience of swimming among giant groupers who are quite unconcerned by the divers is unforgettable, and with a bit of  luck you might be able to witness the reproduction of moray eels. 
In ninth place
The Elephant Rock on the Tremiti Islands in the Apulia region is ranked ninth. The rock, which is 20 meters high is near Punta di San Domino, and appears to have been sculpted by the wind into the shape of a pachyderm. It is ideal for combining a trekking experience with diving if you walk to the location. The maximum depth of two metres allows you to see one of the best unspoiled landscapes on the Tremiti Islands.
In tenth place 
The Secca della Formica, about a mile from Porticello near Palermo is ranked tenth; a mountain that is submerged for 60 metres and then re-emerges on the water's surface at both ends. The area was the site of disastrous shipwrecks during the Roman and Phoenician days, but it is now a diving paradise. Because of its shallow waters, it is also ideal for snorkeling and for less experienced divers. Among other things, it is one of the few underwater locations where you can still see an authentic rarity like black coral.