There are 16 alluring little towns on the UNESCO Amalfi coast, which is famous the world over for its natural beauty, and is a perfect example of a culturally and naturally abundant Mediterranean landscape. The coast takes its name from the little town of Amalfi, which is its nucleus.
42 kilometres of coastline
The coast actually stretches for some 42 kilometres along the Tyrrhenian Sea, and consists of 16 splendid municipalities in the province of Salerno: Amalfi, Atrani, Cava de' Tirreni, Cetara, Conca dei Marini, Furore, Maiori, Minori, Positano, Praiano, Raito, Ravello, Sant'Egidio del Monte Albino, Scala, Tramonti and Vietri sul Mare. Each of these towns has its own character and traditions. One typical product is limoncello, a liqueur made with local lemons. Cetara is famous for its production of anchovy sauce, while Vietri is famous for its splendid hand-painted ceramics.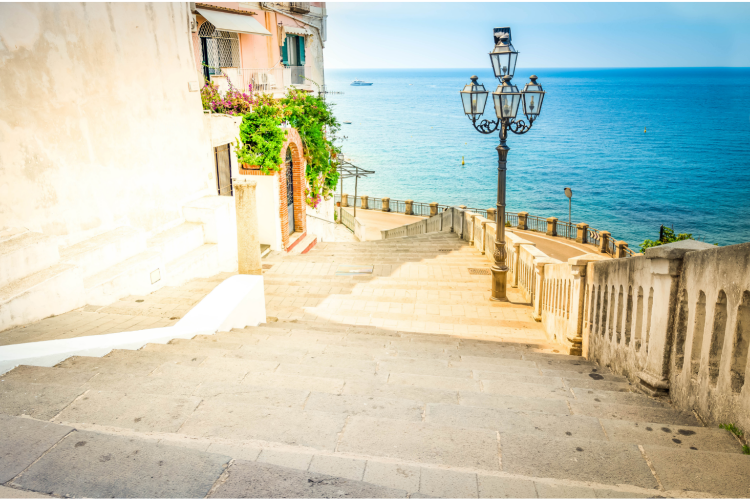 Saracen towers, villas and cathedrals
The various municipalities also have handsome architectural monuments such as the Cathedral of Amalfi with its Cloister of Paradise which has clear oriental influences, the Saracen Tower of Cetara and Ravello, as well as the prestigious Villa Cimbrone and Villa Rufolo.
Positano is a popular resort town
Amalfi is certainly the most famous town on the coast and it reached its maximum splendour in the 11th century, after which it fell into a decline, first conquered by the Normans and later by the Pisans. Then, in 1343, a storm resulting in a tsunami destroyed a large part of the town. From Amalfi, passing through pretty Praiano, you come to Positano, a resort town famous for its white houses, little shops where you can buy local crafts and the seemingly endless steps you have to descend to get down to the beach.