The new gastronomic look of the boutique Hotel Exclesior in Pesaro, a place where true luxury is synonymous with style and elegance, debuts with a menu by Michelin-starred chef Stefano Ciotti, patron of the Nostrano Restaurant which has held the coveted Michelin recognition since 2017.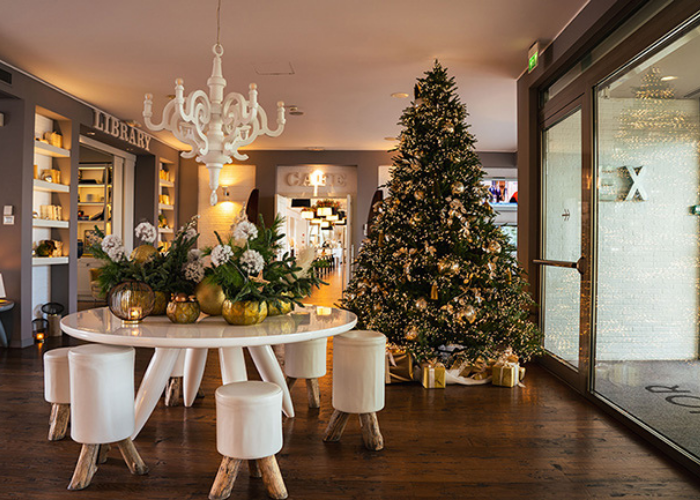 An exclusive, colonial chic atmosphere  
The setting, on the promenade of the Adriatic seaside town of Pesaro in The Marches region, is one of the most exclusive: a colonial chic salon with floor-to-ceiling windows overlooking the sea. Soft lighing, upholstered sofas and hanging lamps all combine with the sophisticated and discreet service, and Stefano Ciotti's cuisine has a strong identity, expressing techniques and procedures inherited from tradition.


Vouchers for exclusive spa treatments 
Then there's the chance to give a unique gift, as the hotel has prepared a series of vouchers varying in price, type, and duration of experience. By purchasing one of the Excelsior Spa gift cards you could pay homage to the Spa with a face or body treatment, a bespoke ritual, or with exclusive and private access to the Hydro Suite or the Hammam.
Pampering and sweetness on the go!
You could also give a Ligne St. Barth beauty product as a gift, extending the feeling of wellbeing you get at the spa to your own or to a friend's home. For only €39 the Spa Cocktail package consists of two hours of relaxation, a cocktail from the barman, a savoury starter, and the chef's finger food in an intimate environment. And for €45 the Spa and Breakfast package completes your stay in the spa with an authentic breakfast of wonders. It's all about pampering and sweetness on the go!