The annual Carnival, known as Carnevale in Italy, is a highly colourful and exciting festivity packed with surprises for young and old, families and singles, visitors and locals. Celebrated around the world, in Italy it is linked to many traditions some of which date back to ancient Roman times. 
When is Carnevale and which are the best places in Italy to enjoy it?   
Venice, Veneto
Venice's carnival is as famous as Rio's and in 2022 will start on 12th February and end on 1st March.  The city's iconic St. Mark's Square will host many events and be packed with masks and colourful costumes. The fastest and easiest way to get around is by using the City Pass which covers public transport, transfers, parking and services as well as access to some museums and churches.
Viareggio, Tuscany
Viareggio, the famous Tuscan seaside resort, is 330 kilometres from Venice and hosts Italy's second most famous carnival with huge papier-maché floats representing famous Italian and international figures parading in the streets. The festivities last for several weeks from February to March and the whole town let's its hair down, delighting in street markets, food festivals and concerts.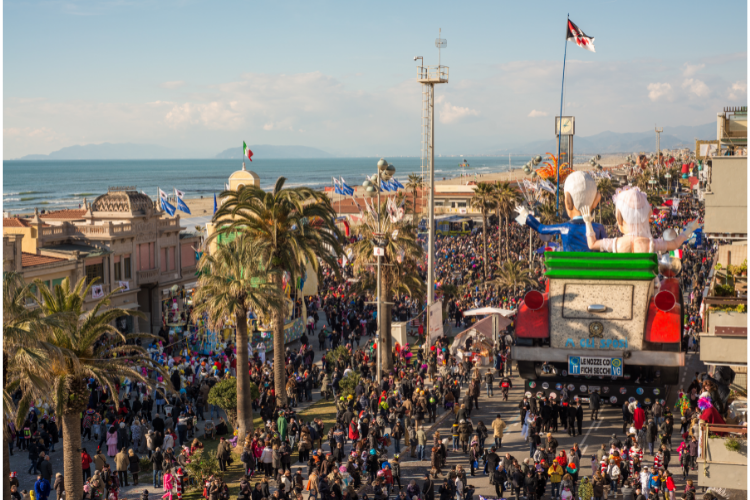 Acqualagna, The Marches
If you love truffles you will have heard of Acqualagna, a small town near Pesaro and Urbino considered the nerve centre of the precious tuber. In February the town comes alive with musical events and carnival floats.  With a difference!  Because here the crowds are pelted with truffles. If you don't manage to grab one you can always chill out at one of the many truffle tastings in local restaurants.  
Ivrea, Piedmont
Ivrea, which has one of Italy's oldest carnivals, is just a few kilometres from Turin, the  administrative centre of the Piedmont region, an art city with a fascinating history.
The historic Carnevale d'Ivrea dates back to the Middle Ages and is very popular for its symbolic and historical roots celebrating freedom and a repudiation of tyranny. Here on three Sundays, starting on the Sunday of Mardi Gras, they re-enact the Battle of the Oranges and the popular revolt against the armed troops of the tyrant.  
Putignano, Apulia
Putignano is fast becoming one of Italay's most popular destiations, turning up in the holiday shots of thousands of international visitors thanks to its splendid coastline, whitewashed walls and quaint cobblestone streets. Putigliano's carnival, which dates back to 1330 and is the oldest in Europe, starts early on 17th January and also has a summer edition      
Acireale, Sicily
Mini parade floats laden with flowers, masks and costumes, brass bands and majorettes, colours and fireworks.  Acireale's carnival, which is one of the oldest in Sicily, lasts for several weeks and is very popular with locals.