Emilia is a land of charming landscapes and historic cities and gives visitors the chance to experience firsthand the works of great Italian movie directors like Bernardo Bertolucci. And to relive moments from great classics, like the films about Don Camillo and Peppone, the visual intuitions of Marco Bellocchio and the story of the painter Ligabue in the screen classic Volevo Nascondermi. 
Fellini was inspired by the town of Novellara 
Your journey through the Emilia region as projected onto the silver screen by some of Italy's great movie directors, can start in the little town of Brescello, where the streets and squares were the setting for the famous Don Camillo and Peppone film directed by Mario Camerini in 1972.  Then there is Campegine, about 70 kilometres from Bologna, where the film Il Cammino della speranza by Pietro Germi is set, and Novellara, just half an hour from Reggio Emilia, which was reconstructed in Rome's Cinecittà film studios by Federico Fellini for La Voce della Luna. 


Don Camillo e Peppone movie
Volevo nascondermi Movie - credit Enrico De Luigi

The city of Parma has featured in many movies
Ligabue is the village of the painter Antonio Ligabue, played by Elio Germano in the movie Volevo Nascondermi (I Wanted to Hide), shot in the region's poplar woods and on the banks of the river Po, and the little town of Gualtieri has the interesting Antonio Ligabue House Museum. Parma, Italian Capital of Culture 2020-2021, has been the set of many cinematographic works and Bernardo Bertolucci dedicated several films to his hometown including Before the Revolution  which was set at Parma's Cathedral and in the Villetta district.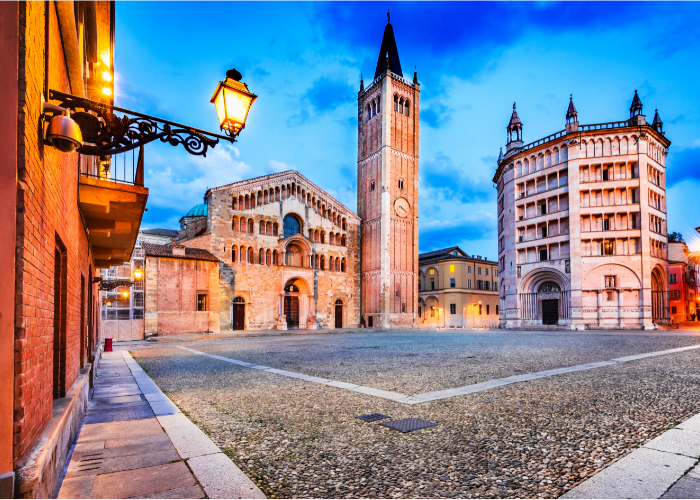 Bertolucci shot his films in small villages and large towns
The castles and historical villages surrounding Parma also feature in many famous Italian movies.  Bertolucci chose the village of Roncole Verdi, not far from Busseto where the great Giuseppe Verdi was born, for his Novecento while in the elegant Moorish Hall of the Palazzo dei Congressi in Salsomaggiore Terme, Bertolucci shot some scenes for his The Last Emperor.


Novellara (Reggio Emilia - Emilia Romagna)