The history of San Gimignano, a UNESCO site with 14 of its original 72 towers still standing, is lost in the mists of time. Legend has it that in 63 BC two young patricians who were accomplices of Catilina, fled Rome and took refuge in the Valdelsa valley where they built two castles: Mucchio and Silvia. Later, in the 10th century Silvia's name was changed to San Gimignano. 

Medieval buildings and an old well
The historic centre is a true work of art, and very accessible: from Via San Giovanni, where you are surrounded by splendid buildings, you come to the Piazza della Cisterna square, so called for the well that provided water to the surrounding countryside.  A little further on there is the Piazza del Duomo, the town's centre of religious and political power.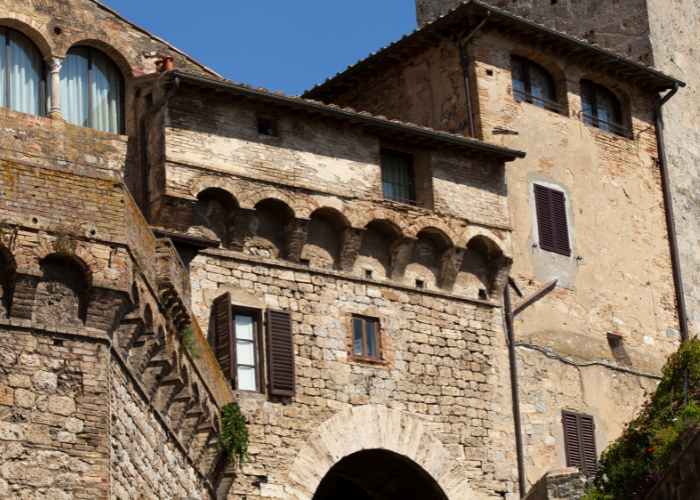 The tallest tower soars to 54 metres 
San Gimignano's soaring towers symbolize the power of the most important families of the time. The oldest is the Rognosa tower, while the highest is the Torre del Podestà at 54 metres. A 1255 regulation prohibited private individuals from erecting towers higher than the Rognosa (which at the time was the highest), but two of the most important families had towers built just slightly lower to underline their position and power in the town's social hiercarchy.
The Museum of Medieval Torture
Next to the Torre del Podestà, is the Palazzo del Podestà which has a fine fresco depicting Sodom, while in the beautiful Collegiate Church of Santa Maria Assunta there are Sienese 14th-century and Florentine 15th-century frescoes. The Museum of Medieval Torture is a real curiosity, with many instruments and torture techniques relating to the period of the persecutions.
A UNESCO site since 1990
San Gimignano is one of the best examples of urban organisation of the old European city states, and thanks to the characteristic medieval architecture of its historic centre, was declared a World Heritage Site by UNESCO in 1990. Every year millions of tourists from all over the world discover the atmosphere and the history of the Middle Ages in this charming little Italian town.