Liguria's top tourist attractions of Portovenere, the Cinque Terre and the islands of Palmaria, Tino and Tinetto, were included in the UNESCO World Heritage List in 1997 for their cultural area of ​​exceptional value representing harmonious interactions between man and nature.
Portovenere and the legend of Venus
Portovenere probably owes its name to the presence of a small pagan temple dedicated to the goddess Venus. The location of the temple was probably chosen for the waves that break on the tip of the promontory creating a lot of sea foam, and legend has it that the goddess Venus was born from the foam of the sea. Portovenere was a fortress village until it was bombed and sacked by the Aragonese in 1494. Subsequently it entered a phase of long decline, and then entered a new period of splendour in the early decades of the 19th century, when the poets Byron and Shelley praised its beauty.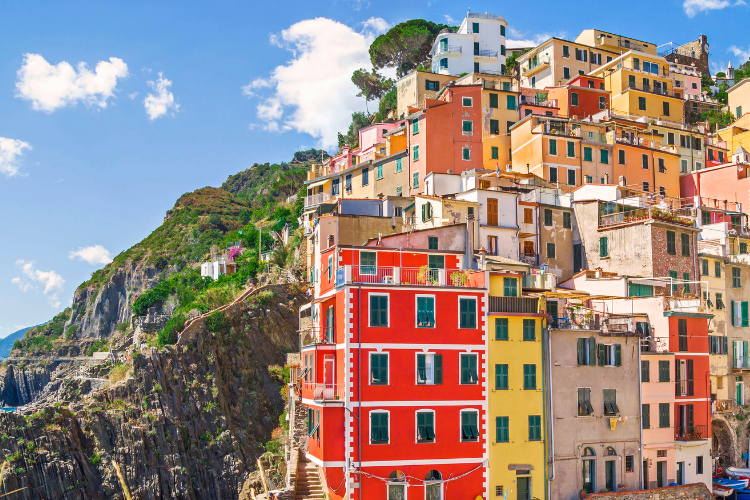 Five colourful little towns
The fabled Cinque Terre start to the west along the coast after Portovenere. The towns are: Riomaggiore, a fishing village, with tall and narrow pastel-coloured houses; Manarola, known not only for its beauty, but also for the production of an excellent olive oil; Corniglia, famous for its vine-clad terraces; Vernazza, a small village, dominated by the Doria Castle and which clusters around a small port, and finally Monterosso which is a famous tourist resort with elegant villas and the beautiful Fegina beach.
Two spectacular grottos
Liguria's beauty spots also include the islands of Palmaria, Tino and Tinetto, currently uninhabited. The three islands have been declared a marine protection area. Palmaria, which is the largest and is covered by Mediterranean scrub, has ravines and caves on its west side. Two of these caves are of particular interest: the Blue Grotto, for its crystalline waters and the Grotto of the Doves which is interesting for the traces of Mesolithic human settlements that have been found there.