Forte dei Marmi is the starting point for numerous routes and itineraries to discover Tuscany's main cities: Lucca (25 km), Pisa (30 km),  (90 km) and Siena (170 km). On the A12-E80 highway the Genova-Rosignano exit is the perfect choice for heading to the cities in the Versilia region and the nearby town of Querceta di Seravezza that has a railway station where local and long-distance trains stop.
There are also routes for trekkers 
The routes indicated below can be enjoyed by car, by bicycle or on foot. Distances vary from four to 15 km. Those who choose trekking in the Apuan Alps should check with in the Pro Loco di Seravezza information office or the CAI section in Forte dei Marmi.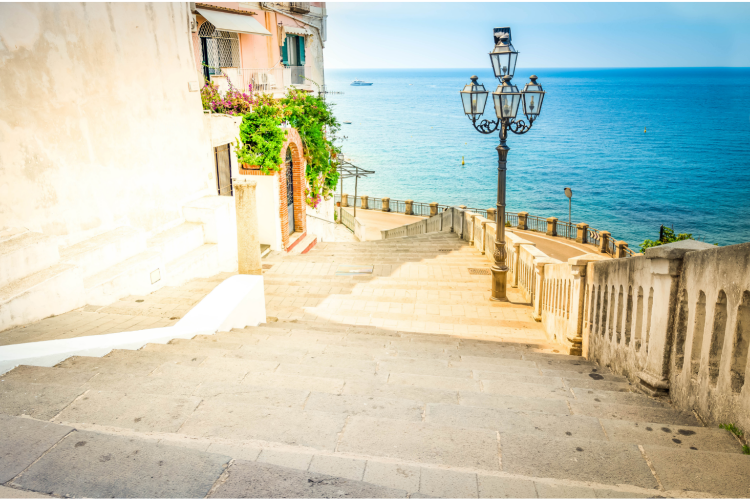 The Palazzo Mediceo is a UNESCO heritage site
From the centre of Forte dei Marmi, the Via Provinciale leads towards Seravezza and the Apuan Alps. Seravezza, located at the confluence of two rivers, is renowned for the presence of the Palazzo Mediceo, a Unesco heritage site and a stunning exhibition venue. 
Refuges in the Apuan Alps where you can enjoy tasty snacks 
Continuing along the main road you reach the villages that dot the slopes of the Apuan Alps: visit Stazzema and its ancient parish church, Pruno, Volegno and Cardoso which have breathtaking views and Levigliani with its Argento Vivo mines. The road then continues towards the Cipollaio Tunnel to Castelnuovo di Garfagnana. The mountainous territory of the Apuan Alps is great for trekking excursions (suitable mountain equipment is required), with routes that arrive at or pass by refuges where you can stop to relax or enjoy a tasty snack.
Viareggio is famous for its handsome Art Nouveau buildings
Viareggio is the first resort town on the coast, and is famous for the handsome Art Nouveau buildings along its promenade. Today it is famous for its port, its shipbuilding industry, its carnival, and the Cittadella where the giant carnival papier-mâché floats are built. 
Puccini operas in Torre del Lago Puccini
A few kilometres south visit Torre del Lago Puccini, where you can enjoy performances of Puccini operas in the open-air theatre. Visit the Villa Museo on the shores of Lake Massaciuccoli where Giacomo Puccini composed some of his most famous works. On the opposite side of the lake you'll find Massarosa. Take some time here to explore the remains of the Roman baths, and stroll along the lakeside which is a favourite with canoeists and birdwatchers.