Follonica is a magical small town on the Maremma coast of Tuscany surrounded by kilometres of wild and unspoiled nature where you can spot dolphins and other marine species.
Its long stretches of white sand beaches are part of the Cetacean Sanctuary, an internationally protected area that is committed to protecting marine mammals and their habitats.
In a place like this, where nature remains the protagonist, the best choice is to stay at The Sense Experience Resort, where you can live and breathe the true essence of the wild Tuscan Maremma region.
A protected marine area
Follonica, along with Grosseto, Elba and the other islands of the Tuscan archipelago, are the heart of the International Cetacean Sanctuary. Thanks to an agreement between the Principality of Monaco, France and Italy, this protected marine area defends the habitat from the negative impacts of human activity. It is a protected basin of 87,500 square kilometres and is the richest area of marine fauna in the entire Mediterranean.
You can spot 12 species of mammals
According to an estimate, there are 12 species of mammals here: the fin whale, the second largest animal in the world, the sperm whale, the common dolphin, the bottlenose dolphin, a rare species of dolphin, the striped dolphin, Risso's dolphin which belongs to the same family of dolphin and the pilot whale. Among the rarest species, the minke whale, orca and pseudorca can also be found here.
Visitor groups are accompanied by marine biologists
Boat excursions are organized during the spring-summer months to visit the marvellous cliffs overlooking the sea and the solitary idyllic beaches. Groups are accompanied by marine biologists and given the chance to spot turtles, manta rays, swordfish, tuna, sunfish, seagulls and other seabirds, with lunch served on board.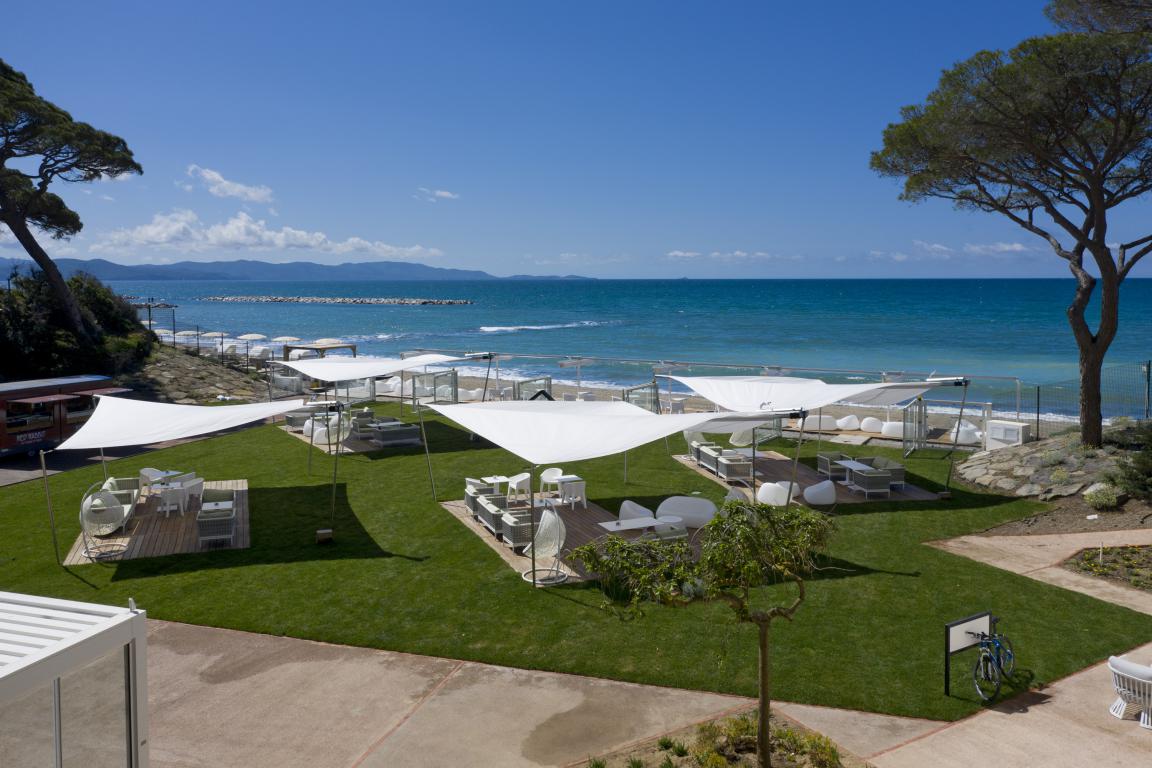 Exclusive stays at The Sense Experience Resort
Connecting with this truly unspoiled nature is good for both the heart and the mind, and can only be optimised by staying at the Icon Collection Group's The Sense Experience Resort. This exclusive resort in a five-hectare nature park overlooks the sea and has a private beach. Among the services available there is also a heated outdoor swimming pool. The resort consists of five buildings with 112 keys including Comfort, Deluxe and Superior rooms and different types of thematic suites as well as two-bedroom suites with sea views and outdoor Jacuzzis.
Fine dining and a popular bar
Discovering this area extends naturally and delectably to the table. The culinary offerings are  curated by the Executive Chef Franco Manfredi who enhances the quality raw ingredients and local products, creating traditional Tuscan dishes. There are two restaurants, the à la carte Dimorà and the new fine dining Eatè restaurant directly on the beach. And the Red Rabbit Mixology Bar is a another favourite with guests.