In these times of social distancing small hotels are much in demand as they can guarantee privacy as well as total immersion in some of Italy's most stunning beauty spots, without forgetting the comforts of a large hotel.  A farm with a view of the Dolomites, a wine resort surrounded by vineyards, a traditional residence in the lush Sicilian countryside, castles and noble palaces - there is so much to choose from! Each one is unique, and in common they have just a few rooms and no shortage of private spaces. Small is beautiful for exclusive and pampering holidays.
Oh what a beautiful castle!
History books tell the story of  Baron Rovero di Champeaux who built the fortified village of Campello Alto near Perugia  just a thousand years ago. Relais Borgo Campello in a Game of Thrones location consists of a castle and an ancient monastery with ten exclusive rooms and olive groves that wind between Assisi and Spoleto. Relais Borgo Campello Tel. 3204549321


A star-filled sky in the Dolomites
Twelve Skyview Chalets at the Camping Toblacher See overlooking Lake Dobbiaco for a total immersion in nature in the Dolomites, a UNESCO World Natural Heritage Site. The glass cubes have 360 ° views of the starry sky (hey have glass roofs)  private infrared saunas and Jacuzzis and breakfast is served directly in your chalet. Skyview Chalets Tel. 0474 973138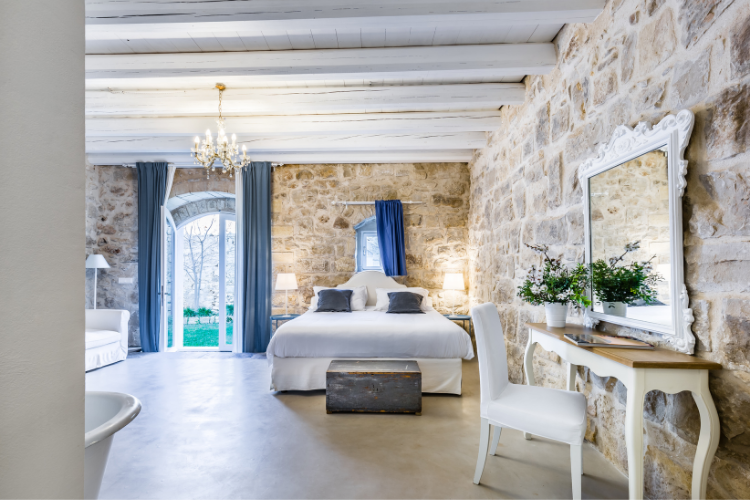 A triumph of Sicilian Baroque
Baglio Occhipinti is a country relais in an ancient baglio, a traditional Sicilian rural residence. With only twelve rooms it has a private garden, views of the vineyards and the Iblei mountains and nature lovers will appreciate the organic garden as much as wine lovers will the cellar. You can laze by the pool or practice yoga, and if you are off for a day trip in the environs your hosts will prepare a vintage basket with meats, cheeses, wine and traditional grain bread. Baglio Occhipinti, Tel. 349 3944359
A tranquil farmstead with just two suites
The Grottner farm in Novale di Fiè, in the South Tyrol has just two suites – a mix of ancient traditional and ultra-modern design - in the historic rural building and in the turret. Relaxation and privacy are guaranteed, as are tranquility and solitude. The guests can enjoy the wellness center, the spa, the whirlpool and the outdoor swimming pool with views of the Dolomite mountains, of the 5-star Romantik Hotel Turm in Fiè allo Sciliar (BZ) and choose whether to breakfast on the farm or in the hotel. There is also a free shuttle for those wishing to dine at the Turm. Maso Grottner, Tel. 0471 725014, www.romantikhotels.com


Florence. A 14th-century hotel in the heart of the Tuscan city
The Romantik Hotel Casa Thiele alla Signoria is in a 14th-century palazzo overlooking the pedestrian area of ​​Via dei Calzaiuoli in downtown Florence. With only five rooms social distancing is assured, as is a warm welcome and gracious hospitality. In a mix of history, art and beauty, the rooms in the tower house have original wooden ceilings, Tuscan terracotta floors and ancient stone walls with reproductions of famous paintings by Raphael, Paolo Uccello and Giotto.
From the hotel guests can set out to discover Florence but also the poignant beauty of the Chianti district with its famous and wine cellars. Romantik Hotel Casa Thiele alla Signoria Tel. +39 055 0937333.