Enna is the navel of Sicily and also Italy's highest regional capital, a sleepy little medieval town perched on a high plateau at 1,000 metres asl. It is situated in the centre of the island, roughly 130 kilometres southeast of Palermo and 85 northwest of Catania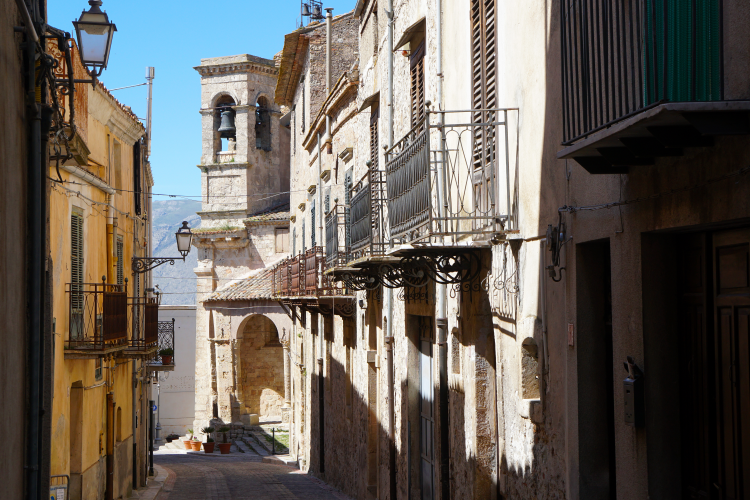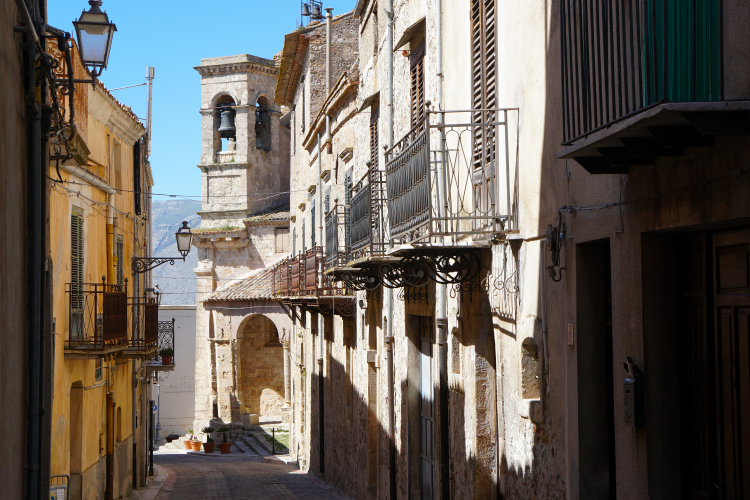 Views of Mount Etna from the town
It is the only Sicilian province that is landlocked, but with its many nature reserves and the stunning views from the town - especially those of Mount Etna – it leaves a lasting impression on visitors.   The town is in two parts, the historic hilltop town known as Enna Alta and the modern town, Enna Bassa which is below. 
Of the 20 original towers in the old castle only six are left
Narrow, winding streets lead up to the cliff-hanging Norman Lombardy Castle. This was built as a fortress and later embellished by Frederic III of Aragon who transformed it into his summer residence.  Of the 20 towers that protected it only six have survived and from the Torre Pisana, with its crown of crenellations, on a clear day it is possible to see all three of Sicily's coasts.
The cathedral has a clock tower on the facade
The Via Roma is Enna's central shopping street and on the main Piazza Vittorio Emanuele square stands a handsome bronze fountain which is a reproduction of Bernini's 17th century The Rape of Persephone. The Cathedral, built in the 14th century by Queen Eleonora, wife of Frederick III, was Sicily's first Norman cathedral. It has a handsome façade while inside there are two aisles flanked by massive Corinthian columns, and three apses. 
Enna had seven monumental city gates
The only monumental gate remaining of the original seven old city gates is the Arco Janniscuru. It is located in the middle of a stone staircase along which there are many burial caves dating back to the Neolithic period, including the Grotta della Guardiola which is one of the most important. The Archaeological Museum in Palazzo Varisano shows prehistoric, classical, and medieval finds, and in all has over 1,500 artefacts in its ten rooms. 
A troglodyte village with cave dwellings
The Vallone Canalotto Byzantine village is a few kilometers north of Enna. Dating back to between 535 and 827 A.D. the homes and other troglodyte areas formed a fortress in the rocky outcropping. Today in the caves it is possible to see places of worship, burial rooms and canals that supplied water at different levels.
The Lake Pergusa Nature Reserve has an ancient necropolis
The Lake Pergusa Nature Reserve, some six six kilometres from Enna, is a paradise for birdwatchers. The nearby archeological site of Cozzo Matrice has the remains of  an ancient fortified village with walls dating back to 8000 B.C., the ruins of an ancient temple and a large necropolis. For information: https://www.turismoenna.it