Milan, like all great cities has many a hidden treasure, and one not to miss is the ancient vineyard in the centre of the city that belonged to one of the greatest artists of all times, Leonardo da Vinci.  
A unique experience for visitors to Milan
Of course no visit to Milan is complete without a visit to the complex of Santa Maria delle Grazie to admire Leonardo's masterpiece The Last Supper. But not many visitors realize they can also visit the ancient vineyard that belonged to the Maestro.  It is surrounded by legends involving Leonardo, his works and his followers and today visitors can admire the rows of the original vine stock.


Leonardo realized many great works for Duke Ludovico
While Leonardo was working in Milan, in 1498 Ludovico il Moro, the duke of the city, gave him the vineyard in thanks for the admirable works with which he was embellishing the city: from The Last Supper to the equestrian monument to Francesco Sforza - later never realized - to the Virgin of the Rocks of which he painted two versions. Today one is in the Louvre Museum in Paris and the other in the National Gallery in London.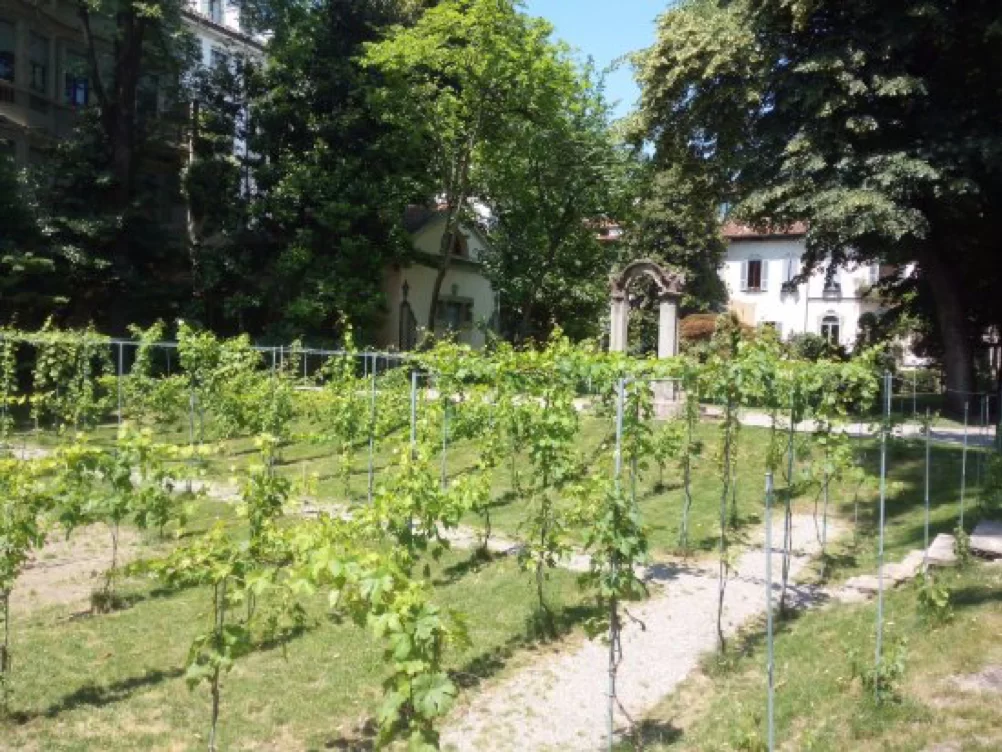 Leonardo Da Vinci Vineyard Milan
The world's only vineyard in a city centre is on a busy shopping street
The Casa degli Atellani, a 15th-century residence belonged to Ludovico il Moro and, historically it is the last surviving trace of the ancient Borgo delle Grazie. Today is at numbers 65-67 on Corso Magenta a busy shopping street in the centre of the city. Located near the Dominican monastery of Santa Maria delle Grazie, which is also known as Leonardo's Last Supper Museum,  the vineyard is in the courtyard of the Casa degli Atellani, a splendid 15rh-century residence that belonged to Ludovico.  The ancient vineyard is some 8,300 square metres in size, and has survived the vicissitudes of centuries and even the 1943 bombings. It is the only vineyard in the world that still exists in a metropolitan centre as well as being a journey through history, art and nature where you can immerse yourself in the world of Leonardo, the greatest  Renaissance painter, sculptor and inventor.
Guided tours to discover the passions and works of Leonardo
Leonardo's Vineyard was reopened to the public on the occasion of the 2015 Expo. A guided tour takes you on a tour of one of the most fascinating and unsuspected places in the city centre entering Leonardo da Vinci's world to discover his passions and the traces he left in the city of Milan. The ancient vineyard and the museum are open from Tuesdays to Sundays from 9 am to 6 pm, with the last entrance at 5.30 pm. For information: https://www.vignadileonardo.com/en