Kickstart your health and wellness this year with the 4-night Chenot wellness progamme at the luxury L'Albereta  hotel and spa, in the vineyards of Franciacorta and Alpine foothills just 30 minutes from Milan, on the southern shore of Lake Iseo in Italy.
The only Chenot Espace Health Wellness SPA in Italy
This four-night Chenot Wellness detoxifying and re-energizing programme at the luxury L'Albereta hotel and spa near Milan is perfect for guests looking to dedicate time restoring their natural state of health wellness and improving well-being for the year ahead.  The Chenot Advanced Detox programme provides an integrated, science-based approach to health and well-being.   Housing the only Chenot Espace Health Wellness SPA in Italy, L'Albereta has a highly qualified team of over 30 doctors, dietitians and osteopaths, ready to help guests restore their health and regain lost vital energy.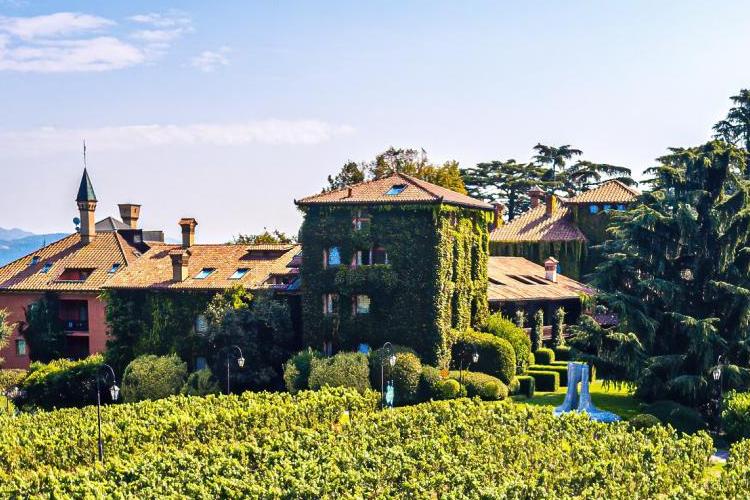 An exclusive 4-night lakeside wellness programme
The 4-night Chenot Wellness Programme, valid until 31st March 2023, includes four nights in a double or single room, Chenot breakfast for one person and breakfast (not Chenot) for an additional companion sharing the room, and Chenot treatments for one person. The offer is available from €3,700 per person for a minimum stay of four nights, plus a compulsory medical consultation at the start of the programme at €150. There is also a city tax supplement of €2.50 per person, per day. 
Artist Christo chose Lake Iseo for an installation 
Lake Iseo is one of the lesser-known Northern Italian lakes and boasts Monte Isola, the biggest lake island in Europe, which was selected by artist Christo for one of his spectacular landscape installations back in 2016, when he created unique orange floating piers connecting one of the villages on the shores of the lake to Monte Isola.  
L'Albereta's two restaurants and Franciacorta wines
L'Albereta is the perfect tonic to city life, a luxury hotel with 53 rooms and suites and is surrounded by some of Italy's most breath-taking scenery. The hotel's main restaurant, Leonefelice Vista Lago, overlooks Lake Iseo and serves a selection of typical Italian and regional dishes. L'Albereta's pizza restaurant, La Filiale, combines a menu entirely dedicated to pizza with outstanding wines from Franciacorta and beyond. For information:   www.albereta.it/en/luxury-spa-hotels-italy/spa-franciacorta/