"Tourism is moving, and this time it's for real, even from non-European markets like America," says Luana De Angelis, owner of the 38incoming tour operator, and vice-president of Fiavet Lazio, the trade association of Italian travel agents.  "Requests and confirmations are starting to arrive both from individuals and corporate groups. And not only from Italy, but also from the United States, which as always been our main customer base, as well as from Germany, France, England and Spain." 
How was business during the last two years?  
"Basically it stopped, then then we launched guided tours of Rome attracting clients from other regions with all-inclusive packages even for small groups of 12-16. And we started working with a fair number of Swiss clients, which was something new for us." 
So, things are starting again but when will it be possible to talk about normality?
"I believe that full normality will begin in 2024. But as early as next spring people will be travelling more again, and what they will be looking for is more destinations en plain air, in contact with nature. We won't be seeing big groups for a while yet, people will prefer to travel individually or in small groups. This has an upside as museums, buses, attractions and restaurants are no longer overcrowded."  
What are the new needs of travelers after the two years of the pandemic? 
"People want to take dream holidays. But they will only do so only if the offer matches their expectations. The pandemic has taught us tour operators that we have to be adaptable. Today we have to be able to offer travelers timely assistance, adequate guarantees and insurance coverage, as well as flexible and personalized cancellation policies." 
What products have you come up with to meet these new demands? 
"Complete experiences, including stays and activities that are highly customizable. We are working with hotels from 3 to 5 stars as well as apartments for long-stays.  Our flagship products are the tours of Rome on three-wheeled Ape scooters. Each vehicle can take up to three people and they are driven by experienced, professional drivers. During the pandemic we launched four new websites, three for the Italian market and one for international clients. We are also online with Facebook and Instagram pages and with a Whatsapp chat that is active seven days a week."



For more information: This email address is being protected from spambots. You need JavaScript enabled to view it.



Discover the package. On sale only for trade buyers.

Login to view and buy the following offer!




From 123,00 € each

Contact this vendor Tours of Rome on Calessino scooters

Enjoy the magnificent Eternal City and its legendary Seven Hills, each one with priceless treasures, and fascinating places to visit. Take this chance to discover Rome, travelling back in time through its age-old history, from the Ancient Roman Empire to modern days.

CHECKOUT MORE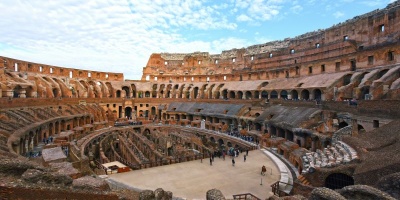 From 2.959,00 € each

Contact this vendor Vacation to Italy & Provence 12 Days / 11 Nights

Discover the Seven Hills of Rome, the Imperial Rome and the Vatican State, visit Ostia Antica enjoying a ride in a Vintage Fiat 500 and spend seven all-inclusive nights aboard MSC Splendida for a Mediterranean Cruise.

CHECKOUT MORE



From 445,00 € each

Contact this vendor Postcards From Rome  

The perfect way to discover Rome in a day! An outstanding mix of art, history and good food on a scooter: all in one tour!

CHECKOUT MORE