Lake Garda is a glamorous choice for summer holidays with its eco-lodges, bubbles, and geodesic domes.  
Sustainable and glamorous outdoor choices
Thanks to the mild climate, which can make it feel like a corner of the Mediterranean in certain areas, the surrounding mountains, the rich historical and cultural heritage, as well as its diverse natural environments and resources, Lake Garda is an ideal destination for outdoor enthusiasts. Moreover, it offers all the joys that camping can provide - a connection with nature, freedom, and a break from the routines of everyday life - all interpreted with creativity, versatility, elegance, and an increasing focus on sustainability. Another important aspect that sets certain glamping experiences apart is the exclusivity of the spaces and facilities available, from eco-lodges to bubbles, and geodesic domes, as well as personalised services.


Bubble Suite - La Rocca Camping Village
Glamping at its most appealing and glamorous 
Among the new glamping offerings at lagodigardacamping.com for summer 2023 on Lake Garda there are eco-lodges. Spacious and elegantly designed, they are equipped with excellent amenities, and were built based on a new concept dedicated to eco-sustainability. The futuristic bubbles are also quite unique: at night, they create the sensation of touching the stars, thanks to their three interconnected bubble volumes with panoramic domes. The accommodation includes a living area, a bedroom with a four-poster bed, and a wooden patio with a wellness area and a heated whirlpool tub.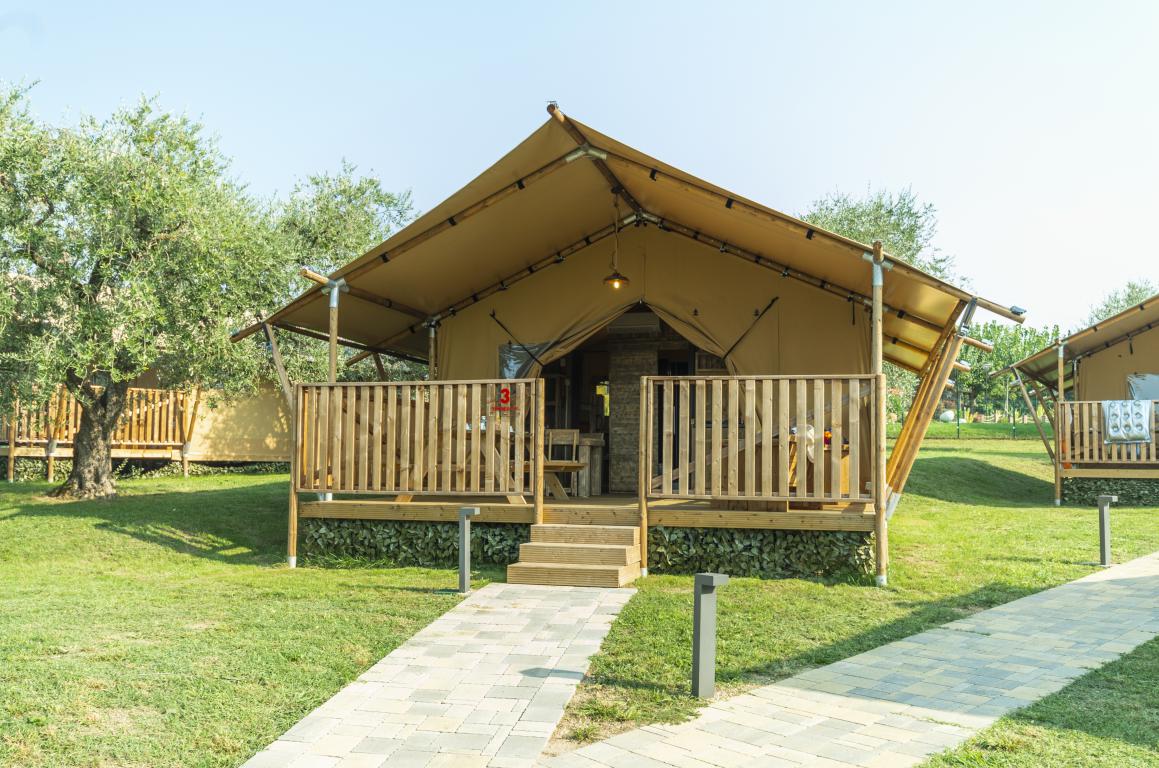 Park delle Rose Safari Tent
The tented lodges have equipped kitchens 
Lake Garda's luxurious geodesic domes are another elegant innovation. They stand out not only for their shape but also for the harmonious arrangement of the spaces, including a bedroom with a window overlooking the lake and a bathroom with a shower. Those seeking a touch of exoticism can opt for the two-story pyramid-shaped tented lodges, made of fabric and wood. These lodges come with crockery, air conditioning, heating, a colour TV, refrigerator, kitchenette, and a private bathroom.


La Rocca Geosuite
The deluxe tents can accommodate up to six people
For carefree family trips, with a hint of glamorous open-air living, the best choice are the deluxe tents, which can accommodate up to six people. They also have a spacious and shaded veranda for outdoor relaxation.

For information: www.lagodigardacamping.com.


Riva Blu glamping Lake Sunshine