Ca' del Moro Wine Retreat, for luxury rural wine-themed holidays, is in an ancient hamlet and part of the La Collina dei Ciliegi winery on the sloping hills of the Valpantena valley, half an hour from Verona. 
The old stables and barn have been turned into six contemporary suites, named for the fine wines produced on the estate. Styled in white and grey tones, the suites have old wooden-beamed ceilings, linen fabrics and well-appointed heated stone bathrooms.
Wine parings and local delicacies
The restaurant – on the large outdoor terrace throughout the summer but not only, as this part of Italy can get wonderfully sunny and surprisingly mild days at any time of year – has seasonal menus of local specialties including cured meats, pork, beef, pigeon, and local cheeses. And the Chef's expertly and imaginatively created wine pairings feature some of the Veneto region's greatest wines.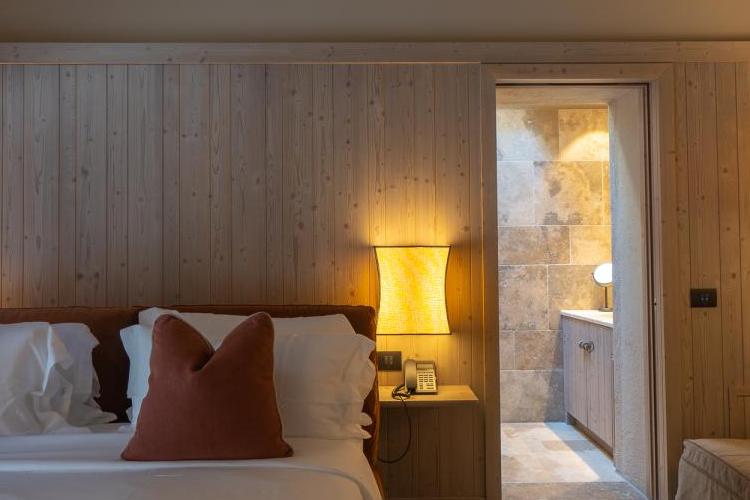 Wine weekends and guided bike and walking tours
Wine lovers will not want to miss an Amarone Weekend dedicated to one of Italy's supreme wines, with two nights in a suite, a Collezione Classica tasting menu and time to discover the valley on horseback. The property also organizes guided excursions on e-bike and on walking trails through woodlands, meadows and vineyards, reaching the valley's higher slopes towards the Lessini preAlps, where the prized red marble of Verona is quarried. 
Glamping, but also shopping and music
For guests who prefer to sleep in close symbiosis with nature there is a luxury glamping tent (more are on the way) with a double bed, a bathroom and views over the vineyards and the valley. This is a glamorous way for nature lovers to blend eco-friendly holidays with sophisticated comfort, and for those who need a top-up of culture and retail adrenalin Verona is just down the road.  This handsome old town has lively shopping streets and the ancient Roman Arena amphitheatre with one of the world's gretest summer opera festivals. It also packs in the crowds - it can hold 22,000 spectators – for mega concerts with big bands and celebrity performers.