Otranto is a window on the East on the Adriatic seaboard of the Salento peninsula, and is the easternmost town in Italy. In half a day you can visit what is one of the most fascinating towns in Italy. In fact in 2010 it was recognized as a UNESCO Cultural Heritage Site and a Messenger of Peace and is in the club of Italy's Most Beautiful Towns, i Borghi più belli d'Italia.

The Otranto Channel separates Italy from Albania
Founded as a Greek-Messapic and then Roman, Byzantine and later Aragonese town, it developed around the imposing castle and the Norman cathedral. An archiepiscopal see and a major tourist centre, it gave its name to the Otranto Channel that separates Italy from Albania, and to the Terra d'Otranto, an ancient district of the Kingdom of Naples.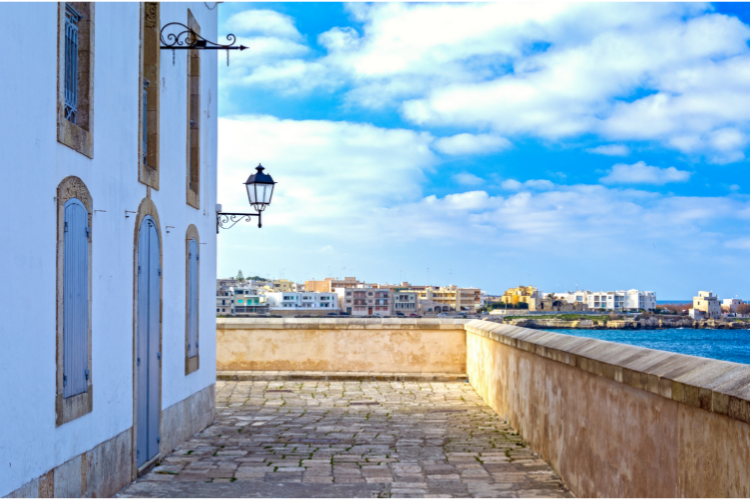 Cobbled streets and stately homes
The first things that catches the traveller's eye are the white houses dominated by the grandeur of the castle, which now houses the old town, and the turquoise sea, which is one of the most transparent in Italy. Through the Porta Terra gate you enter the citadel where a small triangular square precedes the Porta Alfonsina gate leading into the centre's narrow streets. These are cobbled and dotted with workshops and boutiques selling local crafts and other products. There are a number of stately homes such as the Lope Palace, which is the Diocesan Museum, and the Moors' Palace on the ramparts of the Ferdinandea Fortress.
The cathedral has  largest floor mosaic 
Climbing up the town you come to the castle where contemporary art exhibitions are held, and then the cathedral which has Europe's largest floor mosaic. This extraordinary Romanesque work is almost 900 years old and has the famous tree of life in the centre, its branches filled with biblical, angelic, demonic and monstrous figures.

The Salento's unspoiled coast
In recent years Otranto has become one of the most sought-after destinations in Apulia, thanks to the beauty of its coastline and the clarity of its waters, making it a popular choice for holidays in contact with nature. The Baia dei Turchi is one of the best beaches, and as it is one of the last unspoiled corners of the Salento Adriatic coast, it is most certainly worth a visit.