Urban Hive Milano is the name of the new 4-star boutique hotel in the Brera district of Milan. The property was formerly the Carlyle Brera.
Five categories of rooms from Mini to Suite
The boutique hotel has been completely renovated by Vudafieri-Saverino Partners and has 97 rooms and suites in five different categories on seven floors: the Mini for single travelers or mini stays, the Cozy to be shared by two, the Grande for families (a double bed or two single beds, plus an additional single bed), the Taylor which is made to measure with premium devices and personalized services, and the Junior Suite, the largest room in the hotel with a view of Milan's skyline.


Urban Hive Milano Ph. credits Paolo Valentini


Ph Credits Alberto Blassetti

Co-working areas and three meeting rooms
There are also several co-working areas for different uses during the day. The mezzanine is for breakfasts but after 11.00am it morphs into a co-working space for the city's startups. From the community table in the lobby to the shared offices on the mezzanine and in the basement, these common areas have been designed to be open to the city. There is also a multifunctional business area with three meeting rooms.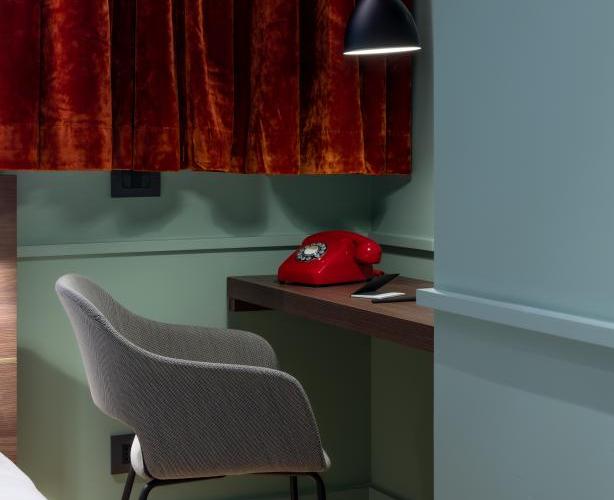 Ph credits: Paolo Valentini
The Portico 84 restaurant is helmed by Dom Carella
The fitness room is open 24/7 and the Urban Hive Milano will also offer customers who arrive before the scheduled check-in time, a locker service for luggage and an area with a shower.  The F&B, by Dom Carella who is well-known on Milan's gastronomic scene, is in the Portico 84 which shares access to the lobby on one side and to Corso Garibaldi on the other.