Florence's Baroque Bardini Gardens and Villa on the Arno river are on four hectares of parkland between the left bank of the Arno river, the Monte Montecuccoli hill and Florence's Medieval walls city. In the 18th-century Giulio Mozzi, who was an enthusiast gardner, enhanced the property with a fountain with multi-material mosaic backdrops. Then in the mid-19th century the Baroque Garden was enlarged with the acquisition of the neighbouring Anglo-Chinese Garden of Villa Manadora, which had been created by Luigi Le Blanc in the early 19th century.
A five-year restoration project 
Unfortunately in 1913 the antiquarian Stefano Bardini, who acquired the complex, built an avenue to get into the villa by car, destroying the gardens, and reuniting the two existing buildings, Then in 2000, the Cassa di Risparmio di Firenze Foundation began the restoration of the complex, taking almost five years and giving it a whole new lease of life.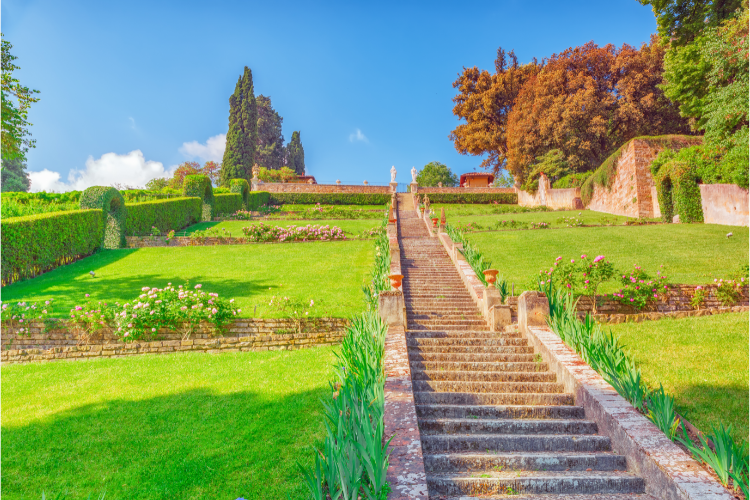 Fruit trees, wisteria,  roses and camellias
In the park which has traditional Tuscan fruit trees, you can walk through a wisteria tunnel, and admire many varieties of hydrangeas. Bourbon roses and irises flank the baroque staircase, and in the English wood, which was part of the Anglo-Chinese Garden, there is now a meadow of azaleas, ferns, viburnums, camellias and a collection of citrus trees. 


Views of Florence's monuments
From Via de 'Bardi along the route you can see many of the monuments of Florence, and once you reach the villa, walking along the Costa San Giorgio in a few minutes you come to the Boboli Gardens from which you can descend towards the city.  The Bardini complex can be visited throughout the year:
The Villa is open on Tuesdays to Sundays 10.00 - 19.00
It is closed every Monday and on 1st January and 25th December
The Garden is open every day between:
8.15 - 16.30 (in the months of November, December, January, February)
8.15 - 17.30 (in the month of March)
8.15 - 18.30 (in the months of April, May, September, October)
8.15 - 19.30 (in the months of June, July, August)
It is closed on the first and last Monday of each month and on 1st January and 25th December