Trame d'Italia has many unusual experiences and cultural itineraries in the province of Parma, offering visitors the chance to discover the history, culture and life of the inhabitants of the Parma area.
This online platform is for travellers looking for direct contact with places, traditions, people and those intriguing lesser-known and inaccessible aspects of one of the most fascinating parts of Italy.


Walking and cycling itineraries 
This tourism promotion project is from Trame d'Italia, with the contribution of the Fondazione Cariparma and in collaboration with the Association of Castles of the Duchy of Parma, Piacenza and Pontremoli and with the European Association of the Vie Francigene. For lovers of culture, nature and the unanticipated, this is a series walking and cycling itineraries that uncover hidden gastronomic gems, age-old castles and unexpected wonders.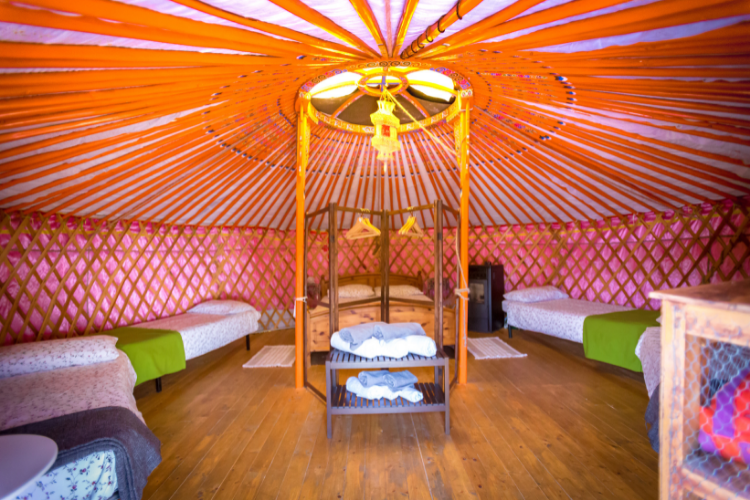 yurta Ca' Cigolara
Yoga lessons and signature cuisine
A Mongolian yurt under the Apennine peaks is the overnight surprise on the Night in a Yurt in the Apennines itinerary: two days in contact with nature, guided by the owners of a farmhouse and the custodian of the Castle of Compiano. This experiential journey includes yoga lessons and Shiatsu massages, signature cuisine, time to explore the beautiful village of Compiano and its manor with its secret prisons, and walks in the Ca' Cigolara woods. The itinerary, valid from April to October 2022, is from €218 per person.


Tastings of local cured meats and wild apple cider
Unusual places for Curious Travellers on the Parma Hills is an itinerary through places where lovers made their vows, starting from the Sala Baganza and the rooms of the Rocca Sanvitale, guided by the owner, with Duke Antonio Farnese's apartment and its history revealed through an Olympus of mythological figures. There are also tastings of local cured meats, a guided walk in the ancient village of Calestano, a special visit to a farm producing wild apple cider, and dinner in a wine cellar. A few kilometers away, the tour continues in the enchanting Castle of Torrechiara with romantic stories about Count Pier Maria Rossi and Bianca Pellegrini, a stop in Sasso, and a guided visit to the Romanesque parish church. The final stop is in the ancient village of Cedogno at the intriguing Museum of Ancient Locks. The itinerary is available from March through November 2022. Prices start at €497 per person.
An afternoon Japanese bookbinding workshop
The magic of the Orient as imagined and experienced by the artist Galileo Chini will surprise and delight visitors on the itinerary The Orient at Salsomaggiore Terme: Atmospheres and Techniques, a one-day experience in the company of a passionate expert on Salsomaggiore's history starting in the Grand Hotel des Thermes. Then on to savour Emilian dishes in an osteria in the historic centre for a delicious farm-to-the-table lunch, and finally an afternoon to savour with a delightful Japanese bookbinding workshop. Prices start at €149 per person.


Tavern in Salsomaggiore