San Galgano, about 40 km from Siena in Tuscany, is an ancient and grandiose Cistercian abbey.  It is now deconsecrated and partly ruined, and not far away, on the Montesiepi Hill, a small circular chapel houses one of the most fascinating and mysterious relics of the whole region: the Sword in the Stone of San Galgano. Right in the centre of the circular chapel, a rock spur protrudes from the terracotta floor, inside of which a cruciform sword is set, which according to scientific analysis was forged around 1170.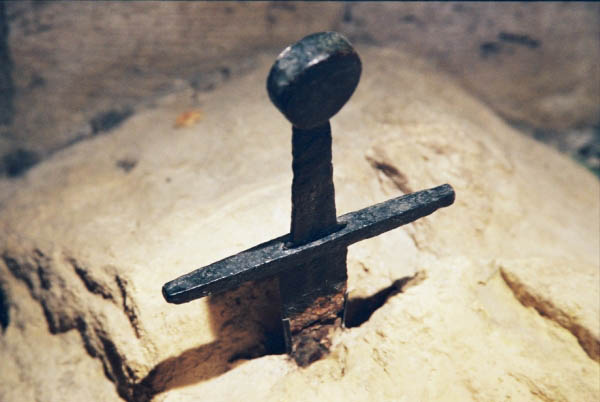 The hermitage is on a circular plan 
Galgano was a young knight, born a few kilometres from Siena in 1147. Legend has it that one night the Archangel Michael appeared to him and guided him to the hill of Montesiepi, where he was welcomed by the twelve Apostles in front of a round chapel. There he abandoned his knight's dress and stuck his sword in a rock to make a cross, and it is still there today as a symbol of an incorruptible conversion. 

The hermitage is in white stone and brick
The hermitage has a circular plan reminiscent of a Roman mausoleum with alternating bands of white stone and brick on the external walls. The interior of the dome is also built with the same alternating materials, and, in addition to the stone with the sword of San Galgano, there are frescoes by Ambrogio Lorenzetti.
The Sword in the Stone could be a Tuscan legend
In addition to the amazement and mystery it instils, it is therefore possible that the myth of the Sword in the Stone, famous for being linked to the Breton saga of King Arthur, actually originated in Tuscany and was exported to France where it bled into Arthurian legend. With its legends, architecture and beautiful landscapes, a visit to San Galgano alone is worth a trip to Tuscany just for the magic and wonder that the place can arouse.