Tenuta Duca Marigliano is an independent boutique hotel of charm in a former 19th-century hunting lodge beside the Greek walls of Paestum's archaeological site in the province of Salerno. It is an oasis of beauty and tranquility surrounded by lawns and gardens, citrus trees and centuries-old oaks. 
Pergolas and gardens and a wellness area
This small hotel has 19 rooms, a gourmet restaurant, pergolas and gardens, and an intimate and reserved wellness area, with a sauna, a Turkish bath and a mini pool Jacuzzi. Owners Rosario and Loredana Paolillo and their young and attentive staff manage the house with grace and total dedication.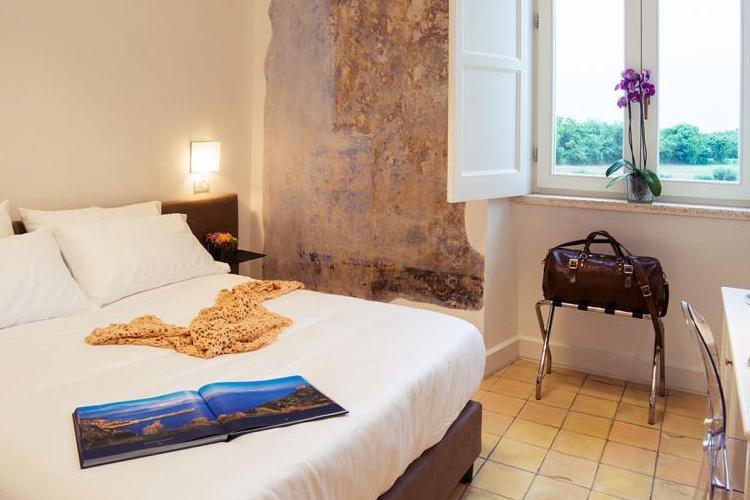 Just five minutes from the sea
Tenuta Duca Marigliano is a great starting point for exploring the region and the archaeological area, with the majestic temples of Hera, Neptune and Athena, which has been a UNESCO World Heritage Site since 1998. Just five minutes from the sea, the long coastline has wonderful beaches with fine sand dunes and crystal-clear waters.


The gourmet Casa Coloni restaurant
The renovations on the property have preserved and enhanced the historic architecture of the manor house. Contemporary materials and design elements enhance the interiors with their high ceilings and barrel vaults and fragments of stone and of the old walls have been deliberately left bare. The 19 rooms are all different, divided between the main house and a second unit which also houses Casa Coloni, the restaurant helmed by chef Luigi Coppola which is also open to the public.


There are a la carte and tasting menus 
Originally from Capaccio Paestum Chef Coppola researches the raw materials and the cuisine of the Cilento tradition for his dishes which are highly creative and celebrate the culture and the region which is rich in history and biodiversity. In addition to the a la carte menu, there are two tasting choices: the meat-based Cis Alentum and the fish-based Da Paestum a… Paestum and the maitre d' Michele Mascolo with the sommelier Danilo Manzo make sure that guests wine and dine like kings. Double rooms from €80-300  Extra services: exclusive use of the Spa.  Bicycles for hire.